Si hi ha una constant en la nostra feina d'aquesta setmana, és l'amor en la comunicació digital. De fet, no diem res de nou perquè tots els nostres treballs des de fa un temps ja els signem de la manera més dolça possible: fet amb tot l'amor del món des de Vilafranca del Penedès o lovingly made in. Però hi ha setmanes que hi és més present que d'altres.
En concret, love is in the air a totes les oficines de correus de Catalunya. Literalment. Resulta que el II Certamen de Cartes d'Amor, del qual nosaltres ens ocupem de la infraestructura de la versió digital, estarà present a totes les oficines de correus perquè la particularitat del certamen és que les cartes s'han d'enviar per correu postal. Això els ha agradat molt, a correus, i s'hi podrà trobar el cartell a totes les oficines.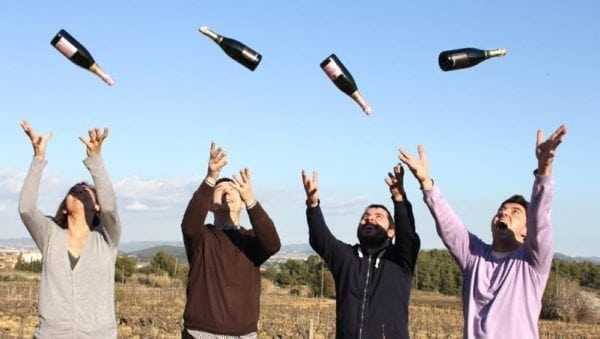 L'amor sempre és protagonista a Berdié, de fet és el nom del seu cava rosat, el que es veu a la fotografia que vola pels aires i del que ens declarem fans absoluts. Doncs a can Berdié estan d'enhorabona perquè han entrat per primera vegada en la seva història en la prestigiosa guia The Wine Advocate, del Robert Parker, amb puntuacions d'escàndol. En concret, el Cava Berdié Gran Anyada 2004 ha obtingut un 92. I amb aquesta gran notícia nosaltres hem començat la nostra col·laboració amb el celler, que es basarà en l'assessorament en l'estratègia de màrqueting digital.

Per últim, dimarts vam assistir a la inauguració de la segona col·lecció de Blanc sota negre al Centre Arts Santa Mònica. En aquest cas la nostra col·laboració es limita a l'assessorament de la comunicació digital pel que fa a la difusió dels seus actes via xarxes socials. Aquí no vam destapar cap ampolla d'amor, de fet ens van oferir cerveses de caràcter mediterrani, però ho volem destacar també perquè és gràcies a la passió de gent com la Joana Masó, comissària de tot el cicle, i del seu equip, que les obres de dones artistes tinguin el ressò que es mereixen.

Directora editorial
at
DeMomentSomTres
Me n'encarrego d'elaborar un discurs que sigui coherent en tots formats. I faig de pont entre la tecnologia i els humans.

Latest posts by Anna Mata (see all)